One of the things that I always enjoyed and looked forward to growing up was watching the Olympic and Commonwealth Games on television. I would marvel at the speed and stamina of the track and field athletes, the immense strength and technique of the weightlifters and the precision of the gymnasts, just to name a few.
Sadly though, through the progressing years, my interest waned somewhat as the athletes competing in these Games would turn from amateur status to fully professional. The purity of competition had been lost, and I began to discover that the supersized talent of these athletes was only matched by their supersized egos. 
However, every now and again an athlete would capture my attention for all the right reasons. One such athlete was Australia's own Jessica Fox, a slalom canoeist from the Hawkesbury region of New South Wales. Whenever I saw this young athlete interviewed, she was always smiling and engaging. She was always polite, courteous and respectful to those interviewing her. She is the polar opposite to most of the self-absorbed athletes of today. You couldn't help but want her to succeed in her dream of obtaining the ultimate prize of Olympic gold!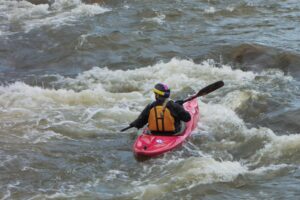 Jessica burst onto the scene at the 2012 Summer Olympics in London, where she made her Olympic debut at just 18 years of age, winning a silver medal in the K1 event. She won a bronze medal in the same K1 event four years later in Rio de Janeiro, and yet again gold medal glory would elude her in this event at the 2020 Tokyo Summer Olympics, where she would again win bronze.
Her last remaining hope of obtaining a gold medal was in the newly introduced C1 event at the same 2020 Tokyo Games. She would enter the final as the fastest qualifier. Can you imagine the pressure this young woman must have been feeling? Her hopes of winning that elusive gold had come down to this moment!
While I was watching this unfold on television, another very unique situation was occurring. Jessica's father, Richard was part of the television commentary team back here in Australia. Richard Fox was himself a world-class canoeist and he was unable to be with Jessica in Tokyo because of the COVID-19 restrictions at the time. What a moment that must have been for him, commentating on his daughter, who he had trained from a small child, attempting to fulfil her dream.
The other commentators on the panel were building up the tension of the moment; all while the camera was trained on Jessica's focused face. And just a few moments before Jessica was to start her run, a fellow commentator asked her father a question that I will never forget. He asked him what she would be thinking at that moment. His response was given calmly and with certainty. He said that she would be saying the three words that he had instilled into her training. She had done all the necessary preparation, put in all the hard work and now it comes down to just three elements: Courage, Confidence and Control.
Her father, in all his wisdom, had broken down the complex into the simple, straight-forward 'elements of success' and it got me thinking that those same elements are necessary for our Christian walk as well. It also got me thinking of how helpful it would have been if I had understood these elements at a younger age as Jessica had done.
Being a youth in today's society is tough, much tougher than when I was a young person. There are many more temptations and distractions around in this troubled and confused world. But if you are a youth in God's true church, you have a head start on every other young person on the planet because you hopefully already have an understanding of the blessings and the peace that comes by obeying the word of God. And these elements of success play an important part in living a joyful, fulfilling life.
It takes courage to walk the narrow path and to walk against the flow of the world and its twisted ideals (Ps.31:24). It takes courage to stand up for the righteous standards of God (1 Cor.16:13). But if you have this courage, you can walk through life with the confidence of knowing that God has an ultimate plan and comprehending your place within that plan. You can live your life with the confidence of knowing that God will succeed in fulfilling His plan (2 Chron.15:7). And when you have this courage and confidence, you are in control of your destiny; no-one else is (2 Tim.1:7). The way can be rough and bumpy sometimes, but you will be in control of how you navigate your life, just as Jessica had learned as she navigated the white-water rapids of a slalom course throughout her highly successful, competitive journey.
And just to prove the point, Jessica delivered a near-perfect, penalty-free run and won Olympic gold by being more than three seconds faster than the next fastest competitor! Her father was right. She had what she needed – courage, confidence and control. Let us listen to our Father's advice and gain the ultimate prize by applying these elements of success to our lives as well (Prov.3:13-14).