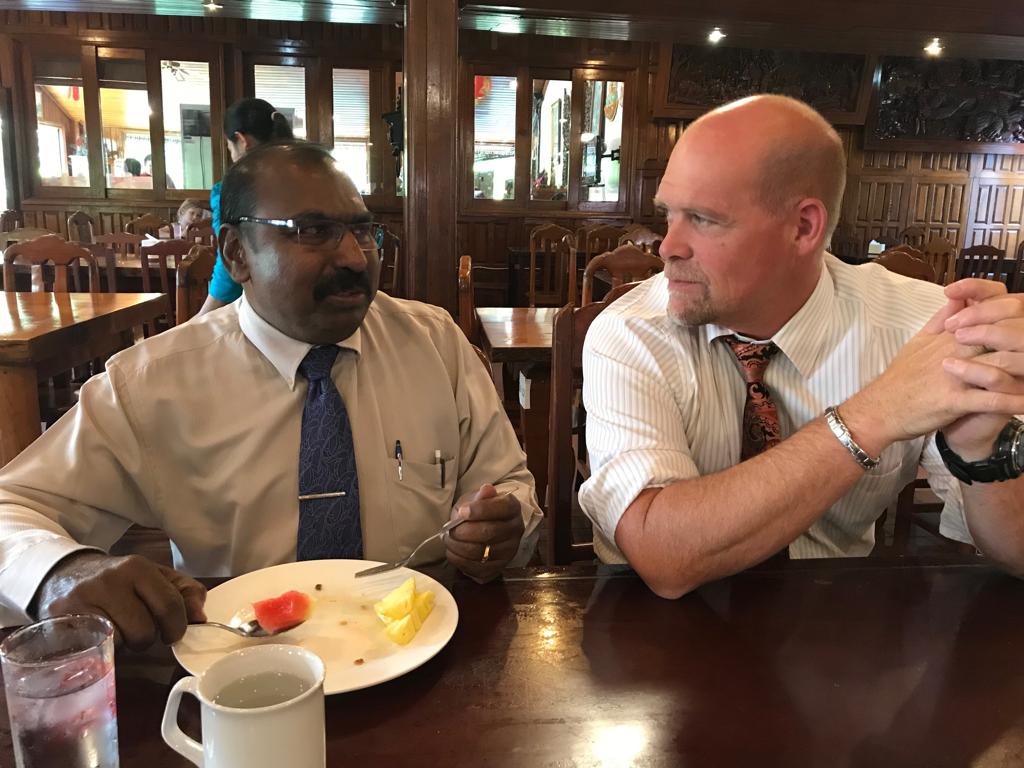 Autumn 2019 Update
It has been nice to be back home in Adelaide before travelling again. The past few months have been exceedingly profitable and encouraging for God's Work in this region.
I thoroughly enjoyed spending time with our Filipino brethren in April and then with our small but faithful flock in Indonesia for the Passover and first few days of Unleavened Bread. But sadly, while in Indonesia, news came of the horrific attacks on Christian Churches and Western Hotels in Sri Lanka. There were 258 lives snuffed out in the attacks and many more will carry the physical and emotional scars. There is no doubt we are living in ever dangerous times. Hostilities between major religions are not uncommon but as the divide between the West and the rest of the world continues, prophetically, we are told these will continue with more frequency and feel closer to home. Although more ethnically than religiously motivated, the March mass shooting on two Muslim mosques in NZ brings that reality to our doorstep.
Please be praying for our brethren in Sri Lanka. Our Elder Mr Kuma De Silva recently relayed the following report:
"Mob attacks on Muslim communities in Sri Lanka's northwest have left one person dead and dozens of shops and mosques destroyed, a government minister said Tuesday……the government imposed a nationwide curfew and temporarily blocked social media and messaging apps. A 45-year-old Muslim man was killed in his carpentry shop by a sword-wielding mob late Monday. The shocking incident took place in the NorthWestern Province (NWP). Stunned by a series of coordinated suicide bombings on Easter Sunday, Sri Lanka is now battling escalating anti-Muslim backlash across the island nation. Isn't it dark times for Sri Lanka?"
All this is directly affecting our members (loss of work and police interrogations) and, consequently, affecting our ability to preach the gospel in Sri Lanka. We are doing our best to send financial aid to our members (although this too has been restricted by the Sri Lankan government). Your prayers would be greatly appreciated for their peace and safety during this turbulent time.
The other item of news I wish to pass on to you all is that I am currently in Thailand. Our Elder Mr Htoowah Laybeh and I are discussing various ideas for preaching the gospel in Asia. Plus I am assessing the various community projects we will endeavour to establish through the Living Church of God's Thai Foundation. Miss Sarah Berardo is also in Thailand assisting me, as she has qualifications in community based program development and a personal passion for designing international community aid systems. You may already be aware of the foundation's existence, but we are now working towards developing more community based projects. Already, we are supplying rice and clothing to poorer remote schools and we are offering English classes to others. Eventually, we hope to design free classes open to the public covering basic life skills based on Biblical Principles. And…yet another door has opened! We have also been offered the use of farming land for potential agricultural projects. There is so much potential in Thailand. Christ admonished us to be lights to the world and this is one way we can shine our light in a country which is 94.5% Buddhist and only 1.17% Christian. You can see we have a lot of work to do! If you would like to be a part of the Thai Foundation, your support would be appreciated.
Brethren, by the time you receive this ANU Pentecost will almost be upon us. Please make every effort to prepare spiritually for this important High Day. Fifty days will have passed since the wavesheaf was waved by the High Priest during the Days of Unleavened Bread (the outpouring of the Holy Spirit and the begettal of the future firstborn members of God's spiritual family). Truly what is pictured is an awesome truth God has revealed to His true Church.
Let's stay focused. Do not become distracted by the cares of this world but continue to run the race with endurance.
Sincerely,
Robert Tyler
Australasian Regional Director