I watched the old man shuffling his feet as he walked. His hair was white, his face was wrinkled and he needed someone to help him along. Outside the hotel foyer the car was waiting.
The old man struggled and winced with pain as his son helped him into the passenger seat. His son lifted his Dad's legs in for him, put on his seatbelt and shut the door, while the old man puffed a little and caught his breath. I sat in the back seat and asked, "Dr Meredith, are you OK?" He turned his head and said, "It's a lot easier for me at home at my age, I like my routine at home, it's much more comfortable, but I push myself as much as I can and come to camp because I want to encourage our youth- it's so important."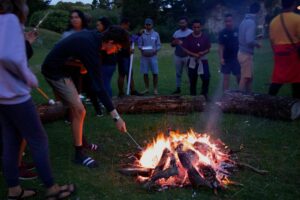 I had the chance to spend some time with Dr Meredith at camp in 2015 and 2016. It was a great opportunity and a real privilege. In that time, I saw a man who was not concerned with personal comforts, but rather a man who drove himself to do the work of God and on this particular occasion he was there to encourage the youth at LYP Ohio.
Dr Meredith had a clear vision of what the Kingdom of God is going to be like when Jesus Christ returns to establish it on the earth. That's one of the reasons why camp is so important.  Camp is a small foretaste of what the Kingdom will be like.
Whether it is the US, Europe, South Africa, the Philippines or New Zealand – this is a very special opportunity to be in an environment that is cut off from the world and its ways. You might be thinking "Why would I want to do that?" Well, Dad & Mum and your family in the church have all caught a vision of a wonderful new world and they want you to catch that vision too.
Notice how God describes it:
Micah 4:1-4 (NKJV)
 Now it shall come to pass in the latter days
That the mountain of the Lord's house [mountain is a biblical symbol of government]
Shall be established on the top of the mountains, [The governments and nations of this world]
And shall be exalted above the hills;[little nations]
And peoples shall flow to it.
2 Many nations shall come and say,
"Come, and let us go up to the mountain of the Lord,
To the house of the God of Jacob;
He will teach us His ways, And we shall walk in His paths."
For out of Zion the law shall go forth,
And the word of the Lord from Jerusalem.
3 …They shall beat their swords into plowshares, And their spears into pruning hooks; [they won't need weapons anymore]
Nation shall not lift up sword against nation, Neither shall they learn war anymore.
4 But everyone shall sit under his vine and under his fig tree, And no one shall make them afraid;
Notice also:
Revelation 21 (NKJV)
3 And I heard a loud voice from heaven saying, "Behold, the tabernacle of God is with men, and He will dwell with them, and they shall be His people. God Himself will be with them and be their God.
4 And God will wipe away every tear from their eyes; there shall be no more death, nor sorrow, nor crying…"
Does that sound like the world you live in now?
Notice what God says about the world we live in.
James 4:4 (NKJV)
4……Do you not know that friendship with the world is enmity with God? Whoever therefore wants to be a friend of the world makes himself an enemy of God.
1 John 2:17 N (NKJV)
17 … the world is passing away, and the lust of it…
When you enter the gates of camp, the world is left behind. And you enter a world where God's ways and attitudes are taught and promoted. I was listening to an Aussie camper on LYP Facebook who went to the Texas Teen Camp this year and he was saying "it is so much easier to do the right thing when everyone around you is doing the same".
That is what it's like and for the 10 days or so of camp, as you build friendships and put God's ways into everything that we are involved in, a foretaste is given of what the kingdom will be like. Of course, the Kingdom will be at least a million times better, but it's a taste of what it will be like. A time when the people around you want to encourage and help you and a time when real, lasting friendships are made. A time for learning about God's plan and purpose.
If you're thinking "Why me? – let someone else go" Let me show you what God's word says about why it should be you. If you are reading this article, chances are that you have at least one parent or relative in the Church.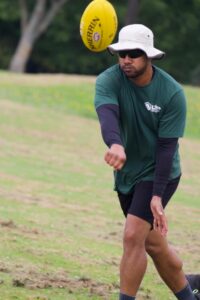 Notice what God's word says.
1 Corinthians 7:14 (NKJV)
14 For the unbelieving husband is sanctified by the wife, and the unbelieving wife is sanctified by the husband; otherwise your children would be unclean, but now they are holy.
If someone in your family has responded to God's call to be in His Church, then the rest of the family automatically becomes precious and known to God and they go under His watchful eye. Notice the Apostle Paul wrote that you are "holy".
Do you know what that means? It means set aside for Godly purpose.
The great God knows you because of the obedience of your parent or family member and He is offering the same thing to you as He is to your Mum or Dad – to be part of the family of God and the Kingdom of God.
God has a plan for you.
Jeremiah 29:11 (NKJV)
11 For I know the thoughts that I think toward you, says the Lord, thoughts of peace and not of evil, to give you a future and a hope.
God knows you and has plans for you if you want to take Him up on it.
When you come to camp, you can learn about the amazing future that God has planned and you can get a foretaste of what that amazing time will be like. You will be taught and guided in preparing for these awesome plans that God has and you will be surrounded by ministry staff and friends who really care about you.
2016 was Dr Meredith's last camp, he was 86 years old and he drove himself, through old age and discomfort, he organised staff and camp directors all around the world so that the sanctified youth in God's church could have a taste of the future that he yearned for.
Would you like a foretaste of that future?
See you at camp!